My dirty little habit for about 10 years was drinking a Starbucks latte every day (venti chai latte with soymilk or venti vanilla latte with soymilk).
On days where I had a lot of work to complete and low energy (due to poor diet and sleep), I would drink at least 2.
A couple years ago, I switched over to an expensive but delicious cold brew coffee and almond milk juice from Owen & Alchemy. Unfortunately, they're now permanently closed. During that time, I would still rotate Starbucks into my daily routine.
I had to find a solution that allowed me to prioritize my health and avoid Starbucks altogether (for health and ethical reasons).
Luckily for us, I found it:
An oh-so-easy DIY cold-brew latte smoothie with superfoods and ZERO processed sugars or chemicals.
I feel more energetic, sharper, healthier and happier drinking this smoothie than any other coffee drink I've had.
This drink is guaranteed to energize your body and make you feel good too.
You can make this recipe in minutes (under ten!) with very minimal prep and clean-up, and the effects will last for hours, if not all day. I am by no means a smoothie expert, and it's easy for me, so I know it will be easy for you as well.
Hope you try it and enjoy!
Recipe
Instructions
This works best with a high speed blender like Vitamix.
Start by adding your 4 ounces (½ cup) of cold-brew coffee. I personally opt for Chameleon Cold-Brew Organic Black Coffee.
Next add your nut milk. Right now I am using New Barn Unsweetened Almondmilk (organic). I prefer to do no more than 100 ml of nut milk topped off with water to reach 4 ounces (½ cup). (I hope in my journey I am eventually using nut milk I make myself. :)
Next, cut open your organic medjool dates, remove the pits, and add to the blender.
Then, add your super-foods to the blender - 2 heaping tsps of maca and 1 heaping tsp of cacao. I use Sunfood Superfoods Raw Organic Maca Powder and Cacao Powder.
Finally, peel and add your ripe banana (preferably organic) to the blender.
If you are a fan of coconut / Bulletproof oil, also add 1 tsp oil. I use either Dr. Bronner's brand fresh-pressed virgin organic coconut oil, or Bulletproof Brain Octane oil.
Blend on high for a few minutes (until the dates are fully blended into a smooth consistency). Pour and enjoy!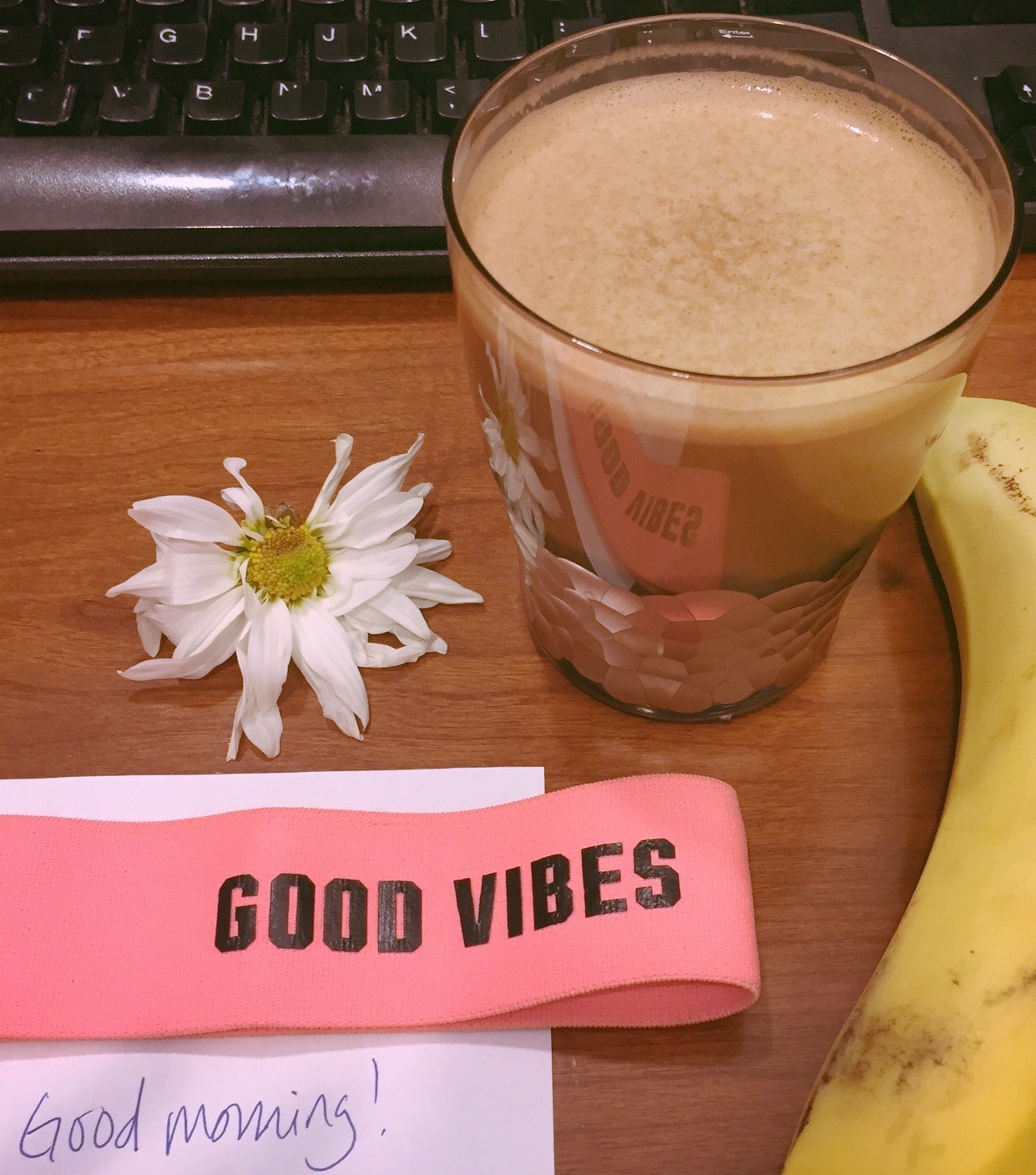 Can you change it up?
Yes! There is no end to the substitution possibilities:
If you prefer less sweet, skip a date.

If you are not hungry, and want a thinner consistency, skip the banana. This also gives drink a more pronounced coffee flavor.

If you prefer the flavor of coffee, try less nut milk and more water for the "milk" component.

If you want a mocha flavor, swap the maca and cacao, so use 2 heaping tsp of cacao and 1 tsp of maca. Voilà, mocha flavor!

Long day ahead of you? I have doubled the recipe with great results when needed:

8 ounces cold-brew coffee

3/4 cup nut milk topped with water to get close to full cup

2 dates

1 ripe banana

5-6 shakes cinnamon (1 tsp)

2 heaping tbsp maca

1 heaping tbsp cacao

Optional 1 tbsp coconut oil or Brain Octane™ Oil
Why these ingredients?
The smoothie contains traditional latte ingredients - nut milk and coffee. Plus, superfoods - maca and cacao. Then, I add cinnamon (arguably a superfood as well) for its ability to stabilize one's blood sugar given the sugary dates and banana. Lastly, the coconut oil/bulletproof oil is a healthy fat for improved brain function. Below you will find more details on the benefits of each ingredient.
Maca
Maca is a root vegetable exclusively from the Peruvian Andes "cultivated for more than 2000 years" for food and medicinal purposes. This food supplement is considered a "superfood".
The benefits of maca may include increased energy, effects on balancing hormones, increased libido (improved sexual function), fertility-enhancement, improvement of bone health (osteoporosis prevention), menopausal symptoms reduction, improved memory / learning / brain function, protective of skin against ultraviolet radiation, enhancement of endurance.
In "Ethnobiology and Ethnopharmacology of Lepidium meyenii (Maca), a Plant from the Peruvian Highlands" the author states "Clinical trials showed efficacy of maca on sexual dysfunctions as well as increasing sperm count and motility. Maca is a plant with great potential as an adaptogen and appears to be promising as a nutraceutical in the prevention of several diseases."
Black, yellow and red maca have different properties, so depending on your goals for supplementing with maca you may want to use one type over the others. Click here for a helpful reference guide.
From personal experience, I can attest to maca's energizing, mood and learning boosting effects. I also believe it has had a positive effect on my hormonal balance.
Cacao
Also considered a "superfood," the benefits of cacao may include increased energy, anti-aging properties (contains antioxidants), improved memory, improved mood, reduction of heart disease, and an immunity boost.
Cacao also provides beneficial nutrients such as manganese, copper, potassium, zinc, iron, selenium and magnesium. On top of that, with a little natural sweetener it can provide a delicious chocolate flavor to food and drinks.
One study comparing various fruit powders and fruit retail products concluded "Cocoa powder and dark chocolate had equivalent or significantly greater ORAC [antioxidant capacity], TP [total polyphenol content], and TF [total flavanol content] values . . . Cacao seeds thus provide nutritive value beyond that derived from their macronutrient composition and appear to meet the popular media's definition of a "Super Fruit".
Said by the Incas to be the "drink of gods" for good reason!
Cold-brew Coffee
Cold-brew is a more concentrated coffee that hasn't lost any health benefits such as antioxidants that can be lost when beans are exposed to high temperatures.
Incredibly, it has also been found to be 67% less acidic than hot coffee! That make it easier to drink for anyone suffering from acid-reflux, and healthier (ingesting highly acid foods means the body has to work hard to neutralize the acid and stay PH balanced - "one of the ways your body neutralizes or "buffers" these acidic foods is by taking calcium and magnesium from your teeth, bones, or muscles")
In general, the benefits of coffee include increasing energy levels, enhanced brain function, caffeine can aid in fat burning, and providing essential nutrients (vitamins B5, B2, B3, B1, potassium, magnesium and manganese).
Nut Milk
I won't drink dairy milk for a variety of reasons we'll talk more about in the future. Nut milk is the healthier choice for me, and what I consider the more ethical choice as it relates to animal welfare and the environment.
Nut milks contain fewer calories, healthy mono- and polyunsaturated fats rather than saturated fat like regular milk, are naturally lactose-free, and are less acidifying than regular milk.
The trick is finding a nut milk you can feel good about drinking (one that doesn't contain preservatives, natural flavors, carrageenan, etc.).
I was using Living Harvest Tempt Unsweetened Vanilla Hemp-milk, and now am using New Barn Organic Unsweetened Almond-milk. (In my journey, I'd eventually like to be using only almond milk I make myself with raw almonds, but these are the best store-bought options I've found.)
Cinnamon
Cinnamon is my favorite spice for its smell and flavor, and is also happens to have been used medicinally around the world for thousands of years with proven health benefits.
In a study comparing the antioxidant capacity of 26 spice extracts, cinnamon came out on top (and we all need antioxidants in our healthy anti-aging plan).
In addition to being high in antioxidants, Cinnamon is know for being anti-inflammatory, anti-diabetic, anti-microbial, immune-boosting, anti-cancer, heart-disease protective, and may have beneficial effect on neurodegenerative diseases.
Dates
Dates are delicious and nutritious, and the perfect whole-food sweetener for smoothies. Dates are another food used for thousands of years and believed to possess healing powers.
The health benefits of dates may include promoting digestion, lowering cholesterol, good source of protein, nutrient rich (containing potassium, iron, selenium, manganese, copper, magnesium, and vitamins B1, B2, B3, B5, B6, A1, K and C), and are a natural sugar provider containing glucose, sucrose and fructose.
Banana
I think we're all well aware of the health benefits of bananas, and their great taste. Bananas provide the body with many vitamins and minerals (potassium, manganese, fiber, folate, vitamin B6, vitamin C, etc.). Additionally, they blend well and add fiber and sweetness to any smoothie.
Tried the smoothie and loved it or hated it? Have a variation you think is top-notch? Let me know in the comments below please!
Next up for morning boost: easy Matcha smoothie.