Last night we found ourselves standing in Warrior I looking out above Chicago skyscrapers at the beautiful blue sky. We were listening to mellow beats with fresh air gently blowing in our faces at Bender's fantastic Sunset Skyline Yoga event.
Bender describes themselves as an "urban playground for body & soul", and we agree. We had a great experience at our first Bender event. See more details on our rooftop yoga experience below.
What is Bender's Sunset Skyline Yoga?
It's a 75min vinyasa yoga class with "a crew of Chicago's favorite teachers and DJs" on a large Chicago rooftop with like minded yogis. The exact location is above ENRGi, 215 W. Ohio St., in River North.
Bender describes the event as "a journey from stillness and silence… to sweaty flow, grooving beats, and high-vibe connection. Both grounding and uplifting, it's a unique way to let go and tune-in with your city... with the sky... with your mind + body... and with friends."
All you need is to register in advance, bring your own mat, and enjoy!
Upon arrival, you will check-in, be given your "Sound Off wireless glowing headphones" and head up to the roof to set up your space for class.
Once upstairs on the roof, you can set up your mat and take in the incredible views of Chicago's skyscrapers and the evening sky while stretching, chatting with other attendees and waiting for class to begin.
During class, you get to enjoy great beats from a local DJ as well as instruction through the provided headphones, while enjoying the fresh air and gorgeous rooftop skyline views.
After class, stay and enjoy the complimentary refreshments, mingle with other attendees, and dance to the DJ's grooves.
What did we love most?
We loved practicing our yoga outdoors with the ability to look up to the night sky and breathe in fresh air.

The instructor, Amber Cook, had a beautiful voice and energy. We enjoyed the practice with her direction.

The personal headphones allowed us to very clearly hear the music and instructor's voice, "while blocking out distractions, and fully immersing [us] in the moment."

We loved that it was a chance to meet and practice with so many fellow Chicagoans with opportunity to mingle before or after class and make new friends.

Of course we loved the views of our lovely city and sky from the rooftop.

DJ John Simmons was excellent, and the music was just the right amount of mellow and energizing for the practice.

Reiki energy healing was provided to attendees during the practice by the lovely Amber Reskey.

We appreciated the complimentary refreshments provided - we each took a delicious bottle of Kevita Master Brew Kombucha to go (yum!).

Although we didn't stay late last night, we loved that they offer the chance to stay after class to "dance and connect with your fellow yoga and music lovers" noting "our DJs will keep you moving, while you soak in the rare vibes and view."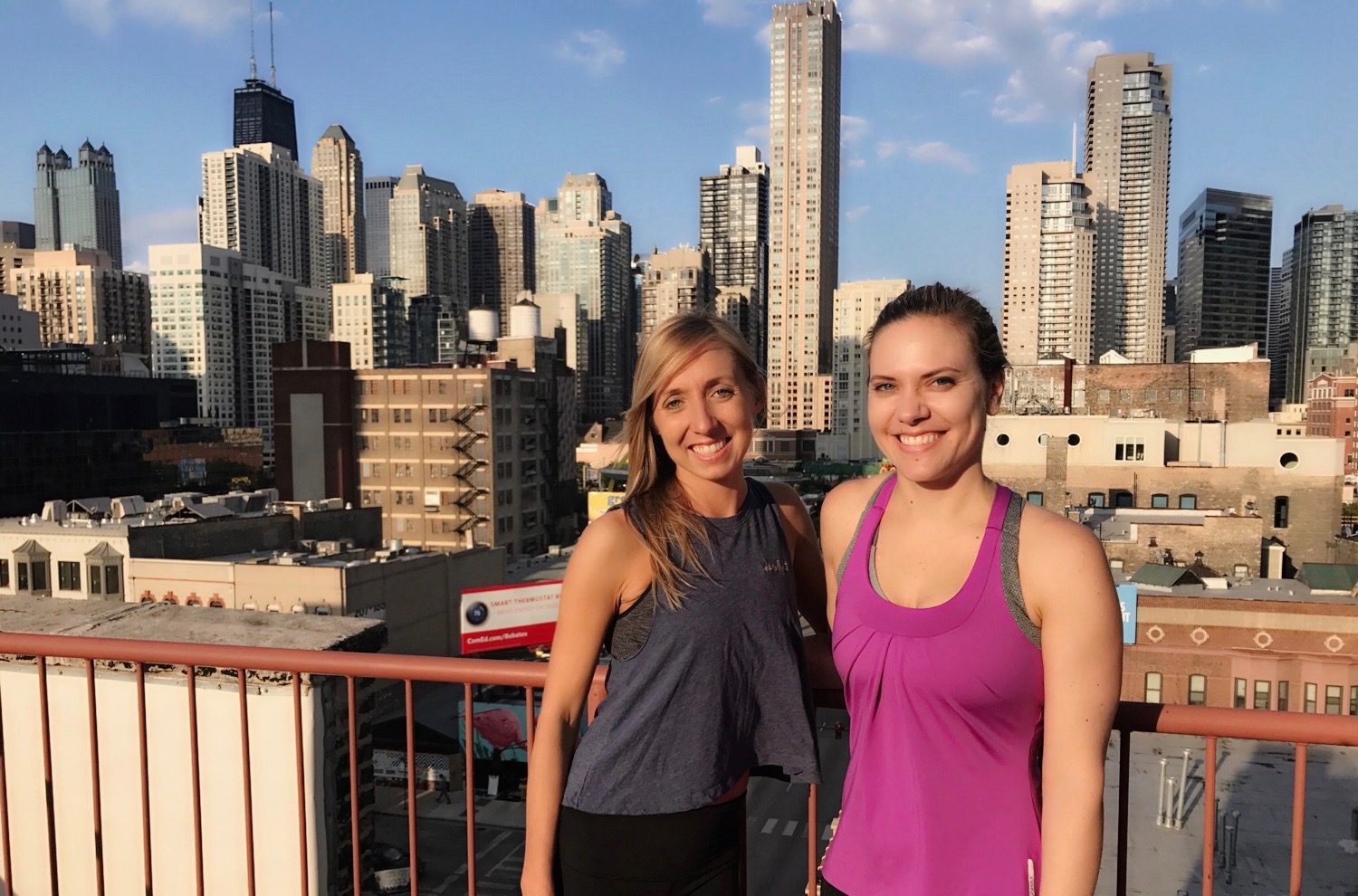 Any drawbacks?
There is no bathroom on-site as the building offices are closed for the evening during the event, so plan accordingly (though there is a chance to use ENRGi's bathroom upon arrival before class)

It can get a bit cold towards the end, so it is a good idea to bring a sweatshirt as Bender recommends in their reminder email to attendees (a couple of us were cold at the finish)

It's a chance to practice your patience game, as our session started a bit late and ran a bit long (may or may not be the usual, and isn't a big issue unless your ride is left waiting)
Final word: We Loved it.
Overall, we had a great experience, and will definitely be back to another Bender event.
You can explore their website and join their email list to subscribe to future events. You can also register for future "Bender CHI // Sunset Skyline Yoga" events now. Each rooftop yoga event is $22-$27 and there are 6 more planned in Chicago this summer!
Bender currently operates in Los Angeles and Chicago and are expanding to Melbourne soon.
Have you tried a Bender event, and if so, what did you think? What's your favorite outdoor yoga event in Chicago? Please let us know in the comments below!