For innovative craft lattes, smoothies and confections made with organic ingredients and superfoods, journey to Oromo Cafe located at 4703 N Lincoln Ave, Chicago, IL 60625, open 7 days a week.
I'd been wanting to try Oromo since I was desperately searching for an organic, healthy latte in Chicago, and found them in a Google search. As soon as I read they had house-made nut milk and were using some of my favorite superfoods in their lattes (such as turmeric and maca), I knew I had to go into the cafe as soon as possible.
Anne and I were fortunate enough to meet the lovely owners, Cenk Duman and Chef Corey Joseph, while sampling some of Oromo's delicious offerings at Hamsa's Open House (read our review on Hamsa Ayurveda Center here). Then, I officially made it to cafe for a great experience, and will definitely be back.
What is there to love about Oromo?
Fresh house-made nut milks for sale alone or used in their concoctions (so no worry of canola oil, xantham gum, preservatives and so on creeping into your lattes from standard commercial nut milks). The latte is noticeably more delicious and healthy with fresh nut milk!
House-made syrups for their craft lattes. There is no refined sugar in any of their lattes concoctions or blended smoothies.
Delicious, nutritious and creative artisanal lattes you simply can't find anywhere else inspired from different regions of the world with superfoods added (ever had a pistachio and rose latte? YUM!). The owners clearly understand the concept of food as medicine.
The also offer the classics, such as drip coffee, espresso, plain latte, etc.
Easy to read menu that includes listing the health benefits of the superfoods added to their offerings, and whether items are 100% organic (green lettering), vegan (v), dairy-free (d), and/or refined-sugar-free (r) (all things dear to my heart).
Delightful snacks for sale and a "Cafe Eats" menu to satisfy any diet. (The "pistachio + fig superfood truffle" is incredible by the way!)
Good amount of seating, with a couple group tables and many 2-person tables for working & fast WiFi.
If you need to sweeten up your drink they offer organic cane sugar, organic coconut sugar and maple syrup at the end of the bar where drinks are served (rather than refined sugar or toxic sweeteners). There is also as self-serve water at the end of the bar, so you can stay hydrated without having to ask for water or purchase a bottle.
They are ethically and environmentally conscious. They "strongly advocate an environmentally friendly business model," and work to source "ethically harvested organic ingredients" and support "sustainable agriculture." It's been said sales of their primary house brew are to be used to benefit small farmers in Ethiopia. Additionally, they use and have for sale Chapin Coffee, which they've noted has served 932 meals to children in need from their purchasing as the proceeds "serve meals to malnourished children living in Guatamala's coffee-growing communities" (as of 6/4/17).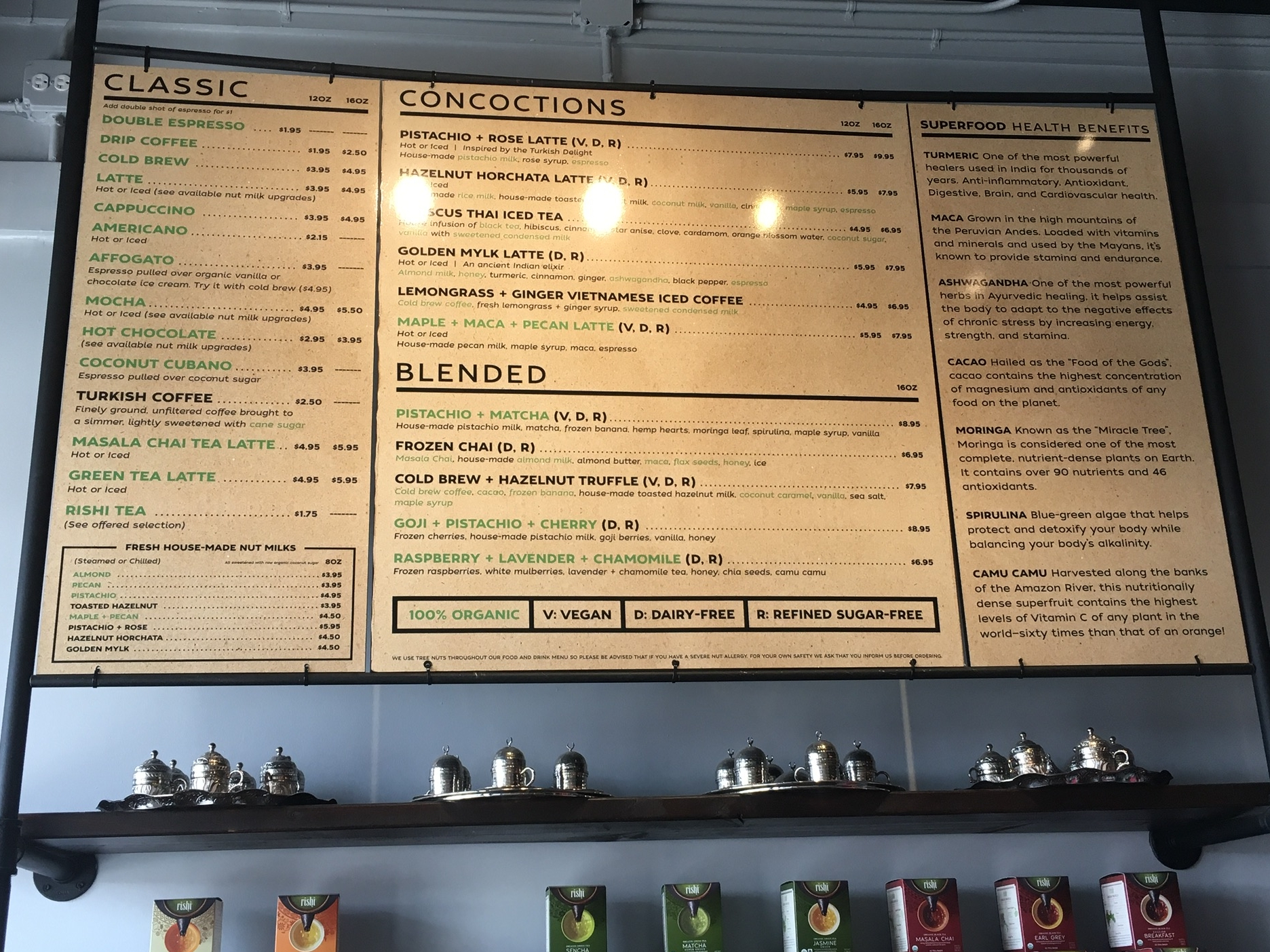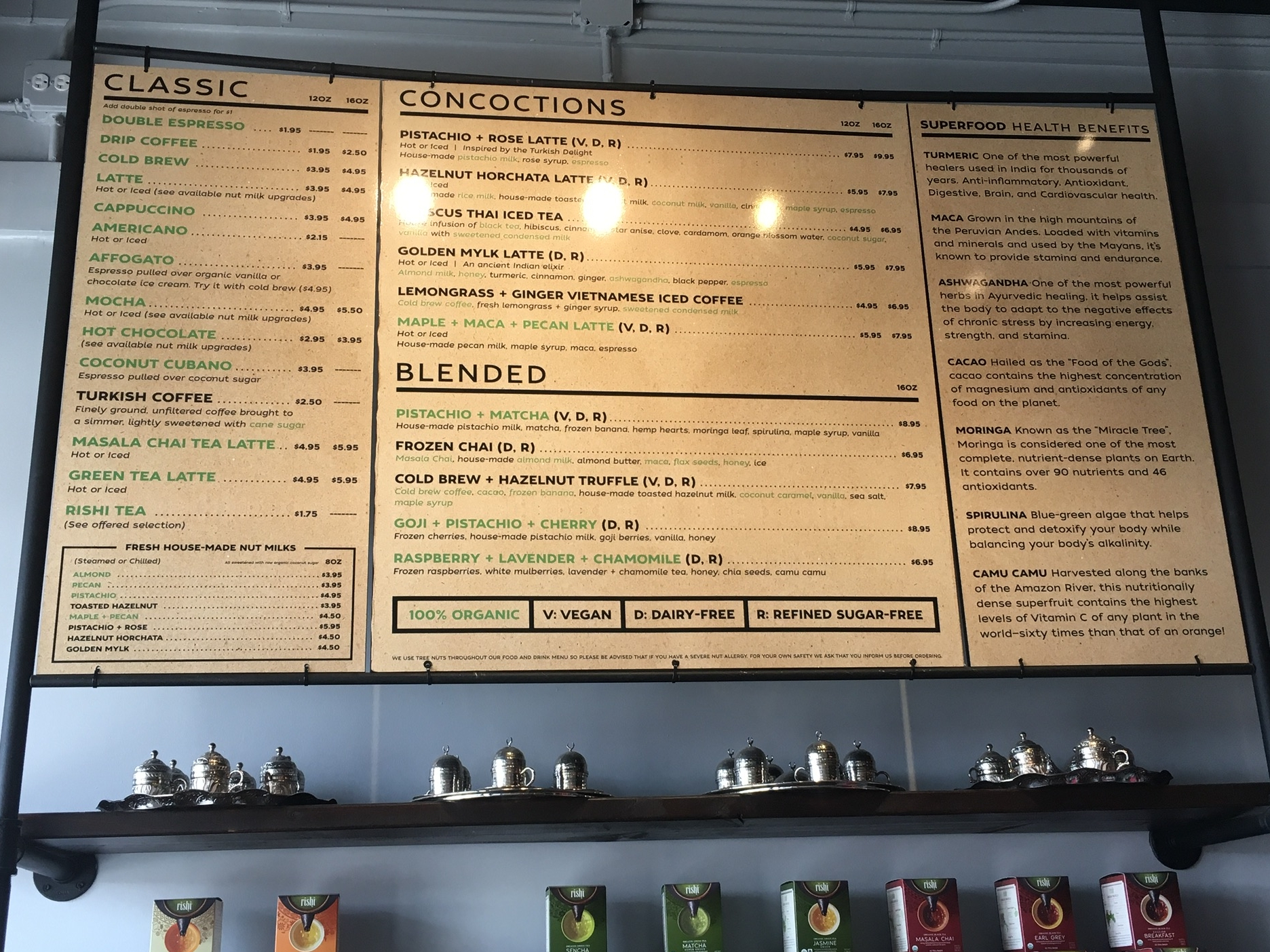 What's good here?
Their menu is so inviting, I want to try every refined sugar free drink eventually.
During my first visit, I tried their Golden Mylk Latte, and it was delicious! It consists of almond milk, honey, turmeric, cinnamon, ginger, ashwagandha, black pepper, and espresso. I love that this latte includes black pepper which enhances the bio-availability of turmeric, specifically turmeric's powerful active ingredient, curcumin (incredibly anti-inflammatory!). This latte is based on "an ancient indian elixir" per their menu. Fighting inflammation and getting my caffeine kick? Yes, please.
Next, I tried the Hazelnut Horchata Latte, iced, which was also delicious. I love horchata, and this tasted richer and fresher than is typical. It is an espresso enhanced version of the classic with house-made rice milk and house-made toasted hazelnut milk. So many good things in this delicious drink.
Lastly, I've also had the Pistachio + Rose Latte. Oh my goodness, it is soooo good. I wasn't sure about this one, but wanted to give it a try. It was creamy and delightful in taste and smell. I loved the rich, nutty pistachio flavor (organic and house made) but it didn't overpower the just-enough-sweetness and subtle espresso flavor. There was a slight delicate rose aroma, and I LOVED the little edible rose petals put on top.
Final world: It's the healthiest coffee shop in Chicago
I highly recommend you journey up to lovely Lincoln Square and try a creative and healthy "culture-conscious" coffee, latte, or smoothie at Oromo Cafe. It is the healthiest coffee shop I have found in Chicago that allows you to feel good about what you eat and drink here. We are happy to have them in Chicago!
Oromo Café, located at 4703 N. Lincoln Ave., is open Monday through Thursdays from 7 a.m. to 7 p.m., on Fridays from 7 a.m. to 9 p.m., and on the weekend from 9 a.m. to 9 p.m. For more information, go to:www.oromocafechicago.com
Have you been to Oromo, and if so, what did you think? Have you found another coffee shop you think is as healthy? Let us know in the comments below.