Colleen had been searching for the best restaurants in Barcelona for our short trip there when she stumbled upon a well-reviewed "restaurant" called the Santa Rita Experience.
The dinner description noted it would be a chance to meet new people in a "vibrant and relaxed environment," while enjoying the tasting menu if we opted for the shared table.
It sounded too intriguing to pass up. We had only two nights in Spain's historic Barcelona, and we were ready for adventure. Colleen booked the shared table reservation and we looked forward to whatever came with the "experience".
To our surprise (and later delight), we discovered it was not a restaurant after all, but a talented chef cooking for a small group of patrons out of his flat (apartment, for all you Americans) with his small team.
We were a little scared when we arrived at the apartment building (after calling to say we couldn't find the restaurant and being guided by the hostess to the apartment building and correct flat buzzer). We joked on our walk up to Chef Xabi Bonilla's flat that we could be about to walk into a house of horrors or, at the very least, a terrible dinner not worthy of a restaurant.
The exact opposite was true.
We walked in and were pleasantly surprised by a modern flat that had been transformed into an intimate and inviting dinner party.
We were greeted with a very warm welcome by the head server/hostess and given a choice between a shared table or a private table for our seating in the open living room next to the exposed kitchen. Colleen chose the private table, but in retrospect, we wish we had gone for the shared table as originally planned, and will do so next time.
What followed was one of the best tasting menus and wine pairing experiences we've ever had.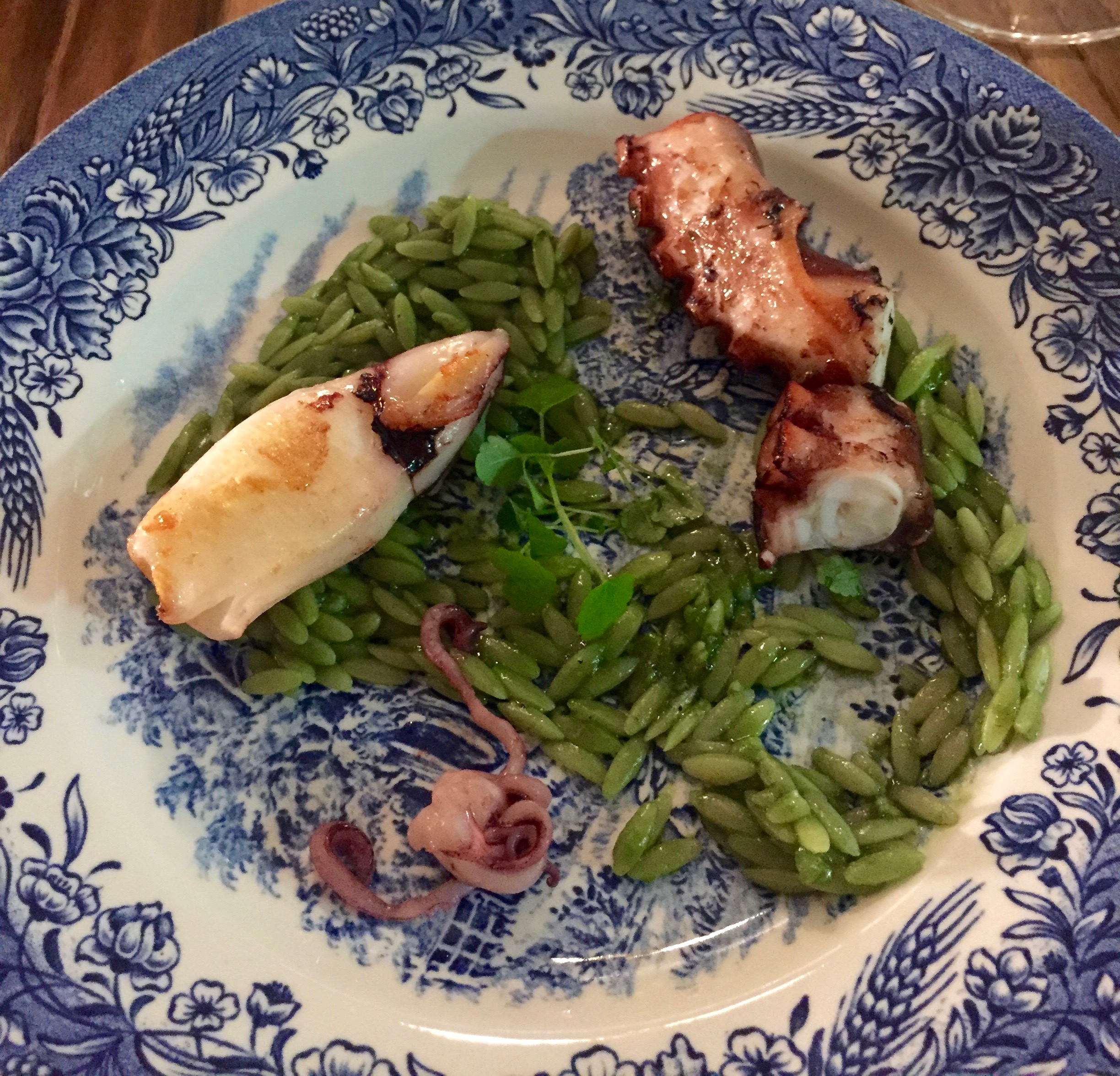 6 Courses of Delicious Food and Delightful Wine
We were offered the wine pairing upon seating (from their selection of organic wines). We both said yes, we wanted to try the fine wines they choose to pair with our food.
The first glass that was poured immediately was a light and vibrant white - the perfect precursor to our meal.
Then came our first course...
Wow.
The slab that looks like salmon on the right was tomato with a chutney-like topping (third picture above). The pesto holding the dish together was incredibly flavorful. The raw fish was the star for being so fresh, local, and perfectly prepared. It wasn't fishy, and the citrus in which it had been prepared made it delicious and easy to eat, even for someone like Colleen who doesn't often eat raw fish.
After the first course had been cleared by our friendly server (who we believe was the chef's girlfriend), we were given our second wine pairing: a delightful rosé.
For the second course, an incredible gazpacho (cold soup) was served.
It turned out to be almond gazpacho with watermelon granita, pieces of raw fish (we believe cured tuna) and summer fruit. It was sweet, filling and refreshing. It was nothing like we've ever had before for a soup. I mean, a creamy vegan almond base with raw fish and watermelon - who would've thought it would be so yummy?
We practically cleaned our bowls.
The third course was a mushroom ravioli with truffle crème sauce to the side. Colleen, who usually avoids mushrooms, and Anne, who is not a fan of truffles, were both wowed. It was rich, creamy, meaty and amazing (even without the crème sauce from the side). This was delightfully delicious.
The fourth course was squid, octopus, and green orso. Not the highlight of our dinner experience, but still a great chance to try local seafood. We both enjoyed the perfectly prepared orso, and the fact that it was a green orzo was a bonus.
The fifth course was beef and squash blossom. I wish we had asked what exactly was in this dish, but at the moment, all we could think about was digging in. Colleen very rarely eats red meat, and even she savored every morsel. The meat melted in our mouths. The squash blossom, vegetables and sauce were also quite delicious. The red wine pairing with this dish was perfect as well.
Then, dessert was a cold beet mousse with fruit and a sweet crumble. Refreshing and sure to satisfy any sweet tooth.
Finally, a bonus dessert arrived with complimentary coffee offered. It was incredible tasting lentils baked in chocolate (hand-made by the chef) served in a beautiful pot. We want to try baking this ourselves it was so good. Lentils and chocolate pair perfectly, who would've guessed?
We also received a complimentary extra glass of wine after declining coffee. A very nice gesture.
We were the last to finish up our lovely dinner.
We had a chance to thank Chef Xavi Bonilla for the extraordinary meal experience, and had a great chat with him and the head waitress following the meal. A perfect end to the night.
What We Loved About the Santa Rita Experience
Everything was simply wonderful, but here are the specific things we loved which you can look forward to when dining at the Santa Rita Experience:
A constantly filled water pitcher, as well as a bread basket with olive oil to enjoy at your discretion.

Meeting the friendly Chef and his fantastic team, and talking to them throughout the dining experience. They are happy to answer any questions.

Watching all of the cooking and plating just to the left in the exposed kitchen. The chef and his team were talented and exciting to watch.

The intimate environment of the quaint flat. We felt like we were in a friend's home for a beautiful dinner party—enjoying the comfort and conversation around us.

The unique dishware with so many lovely patterns holding the beautifully presented dishes. Each piece had an interesting design as if each was from a different Spanish time period.

The perfectly paired wine that was served at exactly the right pace so that we always had a drink to sip.

The food, the food, the food! It was fresh and local, delicious, creative and oh so satisfying.

The ability to relay dietary preferences such as gluten free or vegan, which they will be happy to accommodate.

The reasonable pricing of 7 Courses for 60€ or 7 Courses + 6 Wines for 80€.
We cannot recommend the Santa Rita Experience more highly.
If you're ever in Barcelona - go!
Learn more about the Santa Rita Experience here. In addition to the gastronomic dining experience, they also offer cooking experiences (which we plan to do next visit).
Thank you Santa Rita Experience, we can't wait to journey back.
Have you ever been to the Santa Rita Experience? Or, know of any great restaurants off the beaten path we should check out next time we're in Barcelona? Let us know in the comments below!