Intimate, cozy and delicious. A tiny inviting space complete with hanging plants and delicate flowers on the wood tables.
The perfect BYOB restaurant to cure your winter blues, that happens to also be plant-based, vegetables forward and supportive of local farms.
Cellar Door Provisions is a 20-seat BYOB restaurant in Logan Square "crafting farm-to-table American fare, country bread and pastries." They are unique in that they state their food comes "almost entirely from local farmers whom we know personally."
We recently had a ladies dinner here, and loved the space and experience.
We were happy to have an enjoyable evening in such a charming restaurant that supports community-oriented food sourcing. Hence, we wanted to share about our experience with Cellar Door Provisions.
The Menu
Their menu changes at least weekly, and they make almost everything in-house. (No wonder it tastes so fresh!) The food made from scratch and beautiful dishes that are all a little different further add to the inviting, homey feel provided by Cellar Door Provisions.
The restaurant had a 5-course tasting menu for an affordable $42 per person, and it was all vegetarian.
They offered an upgrade to a porchetta dish for meat eaters, which we declined (so can't comment on, but I'm sure it was delicious).
They also offered an upgrade to a specialty dessert, a chocolate sweet potato cake dish. Although desert was included in the 5-courses we did choose to add on one specialty dessert to share between us 4 ladies.
The Ambiance
The waitstaff was very friendly, and the manager came over in the beginning to greet us as well.
We started with our own organic wine (love byob!) and taking in the lovely space. Cellar Door Provisions has warm lighting, not dark, not too bright. The seating is communal, but it doesn't feel cramped. We would even say it's romantic though not as dark as a typical romantic spot.
The kitchen is open to the space, so you can see the chefs in preparation. It adds to the experience knowing that there is such confidence in their cooking efforts that there is no need to hide anything behind a wall.
Natural elements are also a part of the space. Wooden tables and a lovely shelf of green plants is on display for guests to enjoy.
Cuisine Details
Below are all of the courses for our Friday night dinner. The highlight for all was probably the homemade breads with delicious spreads served first. Colleen's favorite dish was the salad with figs, as well the chestnut soup, which was rich and creamy with good flavor. Anne's favorite dish was the chocolate sweet potato cake, which was divine - creamy, gooey, so chocolatey and delicious.
Pre Courses: Homemade "famous" sourdough bread, homemade pita bread, dips including a crab butter, spiced (and possibly fermented) beans dip, sweet potato puree, and a yogurt dip.
Course 1: Chicory salad with radicchio, figs (to balance the bitter with sweet in one bite), leek powder and steamed mushrooms.
Course 2: Chestnut soup with roasted cabbage and creme fresh (in Colleen's soup, no creme fresh)
Course 3: Roasted beets with beet puree, plum dashi, and shiso leaf.
Course 4: Ricotta dumplings with edible nasturtium flowers in mushroom broth. (Colleen had a veggie dumpling in the same broth).
Course 5: Dessert of pecan torte with salted fig leaf ice cream and buckwheat granola. (Colleen had the same dessert but with lavender sorbet instead of ice cream).
Add-on Course: Chocolate and sweet potato cake with a coffee creme on top (if it's offered, get it, it's amazing).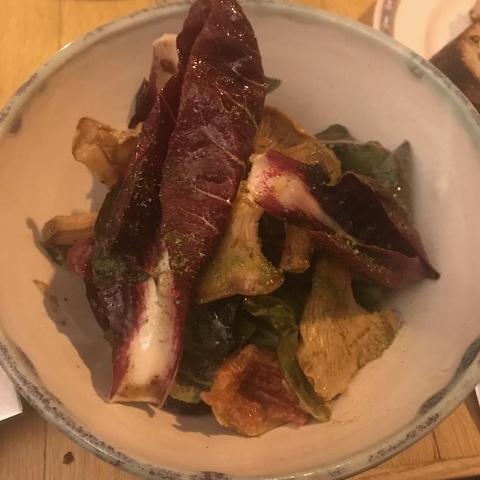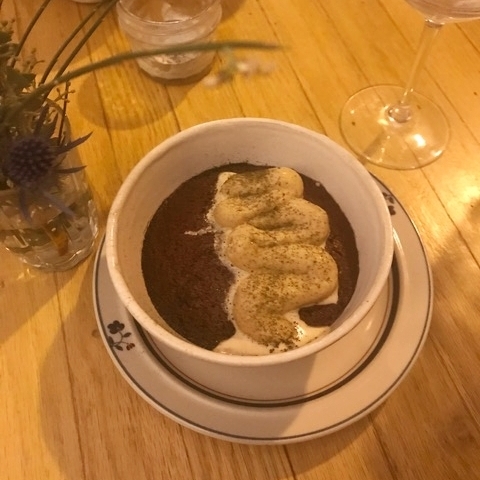 Friendly to Dietary Restrictions
We were impressed at their friendly willingness and ability to accommodate any dietary restrictions.
Our waiter asked for our restrictions at the beginning of the meal, and Colleen opted to have all her vegetarian dishes without any dairy.
They happily accommodated and a couple dishes were unique for her - her dumpling was vegetable rather than ricotta, and her desert had sorbet rather than ice cream on top of the torte.
Result: We'll Be Back
We'd be happy to return to Cellar Door Provisions. We have no doubt the brunch is simple yet exceptional, and want to try it next.
And, we'll definitely be back for dinner service.
Cellar Door Provisions is located at 3025 W. Diversey Avenue. They are open Wednesday through Sunday from 8am - 3pm, and served dinner Fridays and Saturdays from 5:30pm - 9pm. You can reach them at info@cellardoorprovisions.com or 773-697-8337. Reservations can also be made online at Reserve.