My priority is to only buy non-toxic and cruelty-free cosmetics. Fortunately, we live in a time where there are numerous natural brands producing safe makeup.
As Anne has noted previously on this blog, whether you seek organic, cruelty-free, vegan, gluten free, sulfate-free, or all of the above, you have options.
I have never been an extensive makeup wearer. I've had my makeup professionally done, and I love the way it looks, but heavy makeup is just not for me. I never learned how to use foundation or powder, nor do I care for how it feels, so I never use it. I don't know how to contour my face or do fancy eye shadow looks. BUT, the one makeup item I can say I am an expert in is mascara.
I have always received compliments on my naturally long eyelashes. Finding that mascara made a noticeable difference in the way I looked when I first dabbled in makeup as a girl, it's always been my #1 makeup tool. As women, we have to work with our best assets in makeup, and for me, that's enhancing my eyes and lashes.
I was loyal to a few toxic brands before my journey to switching to natural makeup. When I began trying non-toxic brands, I had mixed and sometimes disappointing results.
However, I am happy to share that I've found the best non-toxic and cruelty-free mascara I've ever used called "Stellar Gaze Length & Strength Mineral Mascara" by Pacifica.
Read on to learn more about why I'm sharing my recommendation this product.
My Journey of Switching to Natural Makeup
As background, I want to share that my personal journey of switching to natural makeup products began a few years ago. I was becoming very familiar (and angry) with the sad lack of government protection offered to consumers in America when it comes to dangerous and toxic food, pharmaceuticals, skin care and household products. Makeup was the last thing in my life that I switched to non-toxic, and I'm so happy I did.
As it relates to makeup specifically, beware, ladies, "The law does not require cosmetic products and ingredients, other than color additives, to have FDA approval before they go on the market." This means that the companies producing and profiting from the products are in charge of ensuring their safety.
With no pre-market 3rd-party required safety testing, the safety of ingredients ensured by the cosmetic companies is a classic "fox guarding the henhouse" scenario that spells danger for cosmetics consumers. For example, we know the European Union has banned 1,328 chemical ingredients from use in cosmetics, while the FDA has only prohibited a mere 11 ingredients in the U.S.
To make matters worse, the FDA does not require tracking of consumer complaints against cosmetics. A recent study by Northwestern pointed out "Cosmetic complaints climb but products still on market." The New York Times also posted an article this month titled "For Cosmetics, Let the Buyer Beware" stating "Even when a hazard comes to light, a [makeup] product can remain on the market for years until negotiations make their way through the legal system or the company decides to halt sales."
History has taught us that manufacturers' prefer profits over safety (hence cigarettes, lead paint, asbestos, halogenated solvents, and so on), and it's repeated itself when it comes to cosmetic companies.
Popular brands of mascara can contain ingredients that cause health issues, like endocrine-disrupting parabens, neurotoxic aluminum, skin irritating propylene glycol, among other toxic ingredients.
That's why at Journey to Good, Anne and I want to share our recommendations for safer cosmetics.
Want to Know More About the Best Mascara I'm Using Now, "Stellar Gaze"?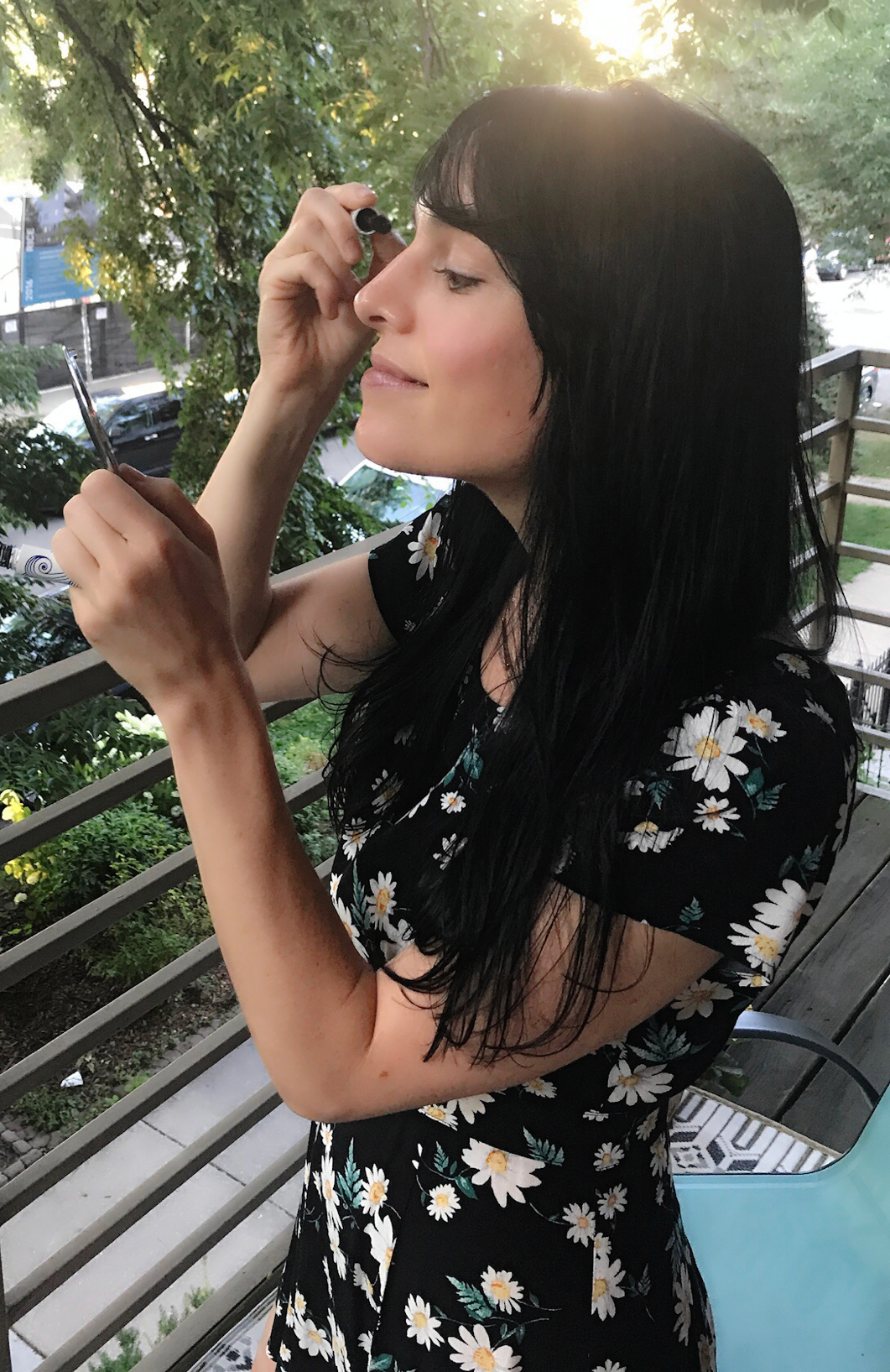 First, What's Good About This Good?
There are the reasons I love "Stellar Gaze Length & Strength Mineral Mascara":
Clump Resistant - I'm not an apply only one coat type of gal, so I need a mascara that I can brush several times to thoroughly coat my lashes without seeing clumps, and this one works. It applies evenly and is clump-resistant.

Long Lasting - It stays on well without the need for re-application.

Good Color - I have the "Supernova" version which is a rich black. I haven't tried "Stardust", but I expect it is a good brown based on Supernova.

Volumizing, Lengthening & Strengthening - The mascara and plush vegan brush do a great job of adding length and volume during application. I'm not sure how much stronger my lashes are, but I do seem to lose fewer lashes than I did when I was using more toxic mascaras.

Affordable - Being under $15 makes it a wallet-friendly product compared to other non-toxic or high-end mascaras.

Vegan & Cruelty-Free - No animals were harmed in production or testing of this product (yay!) and it's PETA recommended.

Packaging - Product packaging is not something I worry about when looking for a good cosmetic, I focus on the ingredients, but this is the most beautiful packaging I've seen. I love the whimsical and celestial designs on the box and mascara tube. Plus, it's recyclable!

Made in the U.S.A - Pacifica products are all made in the US in Portland, Oregon.
Wait, But What's in "Stellar Gaze" Mascara?
Pacifica claims all its products are "gluten free, 100% vegan and cruelty-free". Their mascara "Stellar Gaze" is stated to be "formulated without animal ingredients, phthalates, parabens, sulfates, propylene glycol, mineral oil, petroleum, peanut oil, triclosan, and other ingredients you do not want on your skin."
It may not be an organic product, but avoiding the items listed above is wonderful for a mascara.
"Stellar Gaze" is also, "infused with Coconut Oil and Vitamin B" to "hydrate each lash as it lengthens, strengthens and adds volume."
I wanted to look more thoroughly at this mascara's ingredients, so I've reviewed each ingredient using EWG's Skin Deep search tool, and have listed their ratings based on the following EWG Skin Deep scale:
The ingredient hazard score, from 1-10 reflects known and suspected hazards of ingredients.
1 - 2: Low Hazard
3 - 6: Moderate Hazard
7 - 10: High Hazard
Data availability rating: the scope of ingredient safety data contained in Skin Deep, and the number of studies available in the open scientific literature.
Data: None
Data: Limited
Data: Fair
Data: Good
Data: Robust
For reference, the Environmental Working Group (EWG) is a "non-profit, non-partisan organization" using "the power of information to protect human health and the environment." EWG's Skin Deep database was launched "to create online profiles for cosmetics and personal care products and their potential hazards and health concerns. Our aim is to fill in where industry and government leave off. . . Our staff scientists compare the ingredients on personal care product labels and websites to information in nearly 60 toxicity and regulatory databases. . . EWG's Skin Deep database provides you with easy-to-navigate ratings for a wide range of products and ingredients on the market."
Below is how Pacifica's "Stellar Gaze Length & Strength Mineral Mascara" ingredients ranked on EWG's Skin Deep scale.
aqua (water): 1, robust data
glycerin (vegetable): 1, limited data (regular glycerin was ranked 2 with good data)
glyceryl stearate se: 1, limited
jojoba esters: 1, limited
tapioca starch: 1, fair data
stearic acid (vegetable): 1, fair
copernicia cerfera (carnauba) wax: 1, limited
euphorbia cerifera (candelilla) wax: 1, limited
arabic/acacia gum: 1, none
acrylates: 1, limited
crosspolymer: 1, limited
potassium cetyl phosphate: 1, limited
microcrystalline cellulse (plant): 1, fair
cocos nucifera (coconut) oil: 1, fair
panthenol (vitamin b): 1, limited
cellulose gum: 1, fair
gluconolactone: 1, limited
macrocystis pyifera (brown kelp) extract: 1, limited
hydrolyzed oryza sativa (rice) protein: 1, fair (could not search hydrolyzed version)
sodium benzoate: 3, fair (this is a natural preservative derived from cranberries, prunes, plums, cinnamon, ripe cloves, or apples to prevent bacteria and fungi from developing. It is a low hazard natural preservative when not combined with vitamin c to create benzene)
iron oxides c1 77499: 2, fair
Overall, I feel great about these EWG rankings of "Stellar Gaze" mascara. All ingredients are of low hazard, with the exception of the low-moderately hazardous sodium benzoate, which is not the main ingredient and a natural preservative choice compared to toxic parabens commonly used as preservatives in cosmetics.
Where can I buy "Stellar Gaze"?
Pacifica products are carried in Whole Foods and can be purchased on Pacifica's website or Amazon. This mascara is featured on our Shop Good Goods page, too.
Conclusion: Pacifica's "Stellar Gaze" is a Great Value Non-toxic & Cruelty-free Mascara
Pacifica's "Stellar Gaze Length & Strength Mineral Mascara" is a well-performing vegan and cruelty-free mascara that is affordable and long-lasting. It is made with natural ingredients such as coconut oil & vitamin b, and does not contain the most toxic additives common in cosmetics.
I'm happy to have found "Stellar Gaze" on my journey to using only non-toxic and cruelty-free makeup and feel good about recommending it to you.
Have you tried "Stellar Gaze", and if so, what do you think of it? What is your favorite non-toxic and cruelty-free mascara? Let me know in the comments below, please!