Xinalani Retreat (pronounced Shee-nah-lah-knee) is claimed to be "A Sanctuary for Self Discovery," and we agree.
We journeyed to Xinalani Retreat, located in Quimixto, Mexico, together in April. Colleen has been two additional times in 2017.
If you're looking for an all inclusive yoga retreat where you can grow your practice, enjoy nature and eat incredible clean food, this is the spot.
As the resort is located in a peaceful remote location surrounded by wildlife, we also recommend it for self-reflection and rejuvenation.
Although we've only been to one yoga retreat thus far (so, you know, we're experts), there are so many aspects of Xinalani that we (ourselves, our friends, and guests we met at the resort) all love about Xinalani.
Read on to learn more about this incredible yoga retreat in Mexico.
What is Xinalani?
Xinalani is an eco-friendly resort built right into a lush jungle on the ocean's edge, a true yoga and "nature retreat."
It is made up of "four stunning yoga spaces, a temazcal (ancient sweat lodge), beach club, lounge bar, and terrace, oceanfront spa, and a restaurant for yogis," and noted to be "a sanctuary of wellness and serenity."
This all-inclusive yoga retreat includes in each reservation through them:
Room accommodation
Breakfast, lunch, and dinner every day (as well as snacks and drinks available in between meals)
Two daily yoga classes
Round trip transportation to and from Xinalani
Carolina Cardenas, who helps manage guest experiences, explained to us the resort was founded in October 2010. She notes "It is a family business."
The beautiful origin story goes: A Mexican girl, Ana Paula, fell in loved with a French man. They got married and came up with the idea of building a retreat center. Ana Paula's parents were involved as one parent is an architect and the other is an interior designer. Ana, her husband and parents all practice yoga, and that is how they decided their retreat would focus on yoga. Hence, Xinalani Yoga Retreat was born.
We were told, "Xinalani means 'seeds' in pre-Hispanic language and that name was chosen as Xinalani started as a seed."
We are thankful the seed idea of Xinalani took root and has grown to give us all the chance to journey to this wonderful yoga retreat.
What do we LOVE about Xinalani?
We highly recommend Xinalani to anyone, and these are our favorite aspects in more detail of this all-inclusive yoga retreat.
The Philosophy
Xinalani Retreat is a vacation destination we highly recommend at Journey to Good due to the philosophy of the company.
Xinalani prides itself on being an ethical destination for yogis and all visitors, as well as its valued employees.
They built the resort with organic materials, work to conserve water and energy, and have worked to maintain the grounds as a sanctuary for wildlife.
They value people as much as the land. They pride themselves on offering "loyalty, warmth, empathy, politeness and helpfulness" towards their guests. As a return guest, Colleen was flattered to be remembered and warmly welcomed her back. They also offer scholarships, training and job opportunities for the local communities.
Their philosophy of yoga is that it extends to outside of the classroom. They explain on their website "We help our guests to experience 'the yoga life', which exists not only during yoga class but 24 hours a day. This includes community, down time, exercise, good sleep, wholesome food, and fun. We've created a place and an experience where our guests can live this yoga life, tapping into true bliss."
We can testify to the fact that their intimate retreat allows guests to experience "the yoga life" in a beautiful place which they can feel good about supporting.
The Yoga
Every guest is invited to attend two yoga classes per day, one in the morning and one in the evening. Of course, you are able to attend at your discretion (there is no penalty if you need/want to skip a class).
Our friend, Kristen, noted "There was a yoga class for everyone. All levels of yoga are welcome and classes could be adapted based on each individual's level. I liked that the resort was very focused on yoga and that there was a rotation of different teachers/teaching styles/styles of yoga."
We loved all of the yoga instructors working at Xinalani. Having the chance to practice under different teachers with different styles and backgrounds allows you to grow your practice even more. They are also more than happy to help during class, as well as answer questions and provide individual instruction following class.
One of the instructors from which we learned ways to improve our practice was Rodrigo, and we highly recommend following his crazy-inspiring Instagram. His Ashtanga practice is next level!
We were very happy with the yoga offered at Xinalani, including more difficult classes in the morning and often restorative in the evening.
The Food & Drinks
The food is so delicious and healthy! One of our friends described it as, "Ahhmazing!"
Everyone was wowed by the incredible chef's offerings each day. Fresh greens were available at each meal and the standouts were the salad dressings and sauces that accompanied each dish. For example, we had dishes such as a beet, jicama, and lentil salad with a blueberry sauce, a trio of fresh ceviches, and chicken mole. It is authentic Mexican and clean eating at its best.
Xinalani notes, "You'll be served from a menu that's designed for yogis and people who care about health and fitness." They do serve eggs, fish, seafood, and chicken, but never red meat or pork.
Additionally, they are more than happy to cater to any food allergies, dietary restrictions or food preferences if you share yours in advance.
There are always vegan and gluten free options at each meal. In the morning there is soy and almond milk to mix with your coffee and tea in addition to dairy milk. (Be warned, the fresh almond milk mixed with coffee and local honey is too good to have just one cup!)
The cocktails are amazing: fresh, local ingredients, and delicious. We consider the excellent bartenders, Raul and Carlos, good friends, thanks to many fun nights at the beach bar.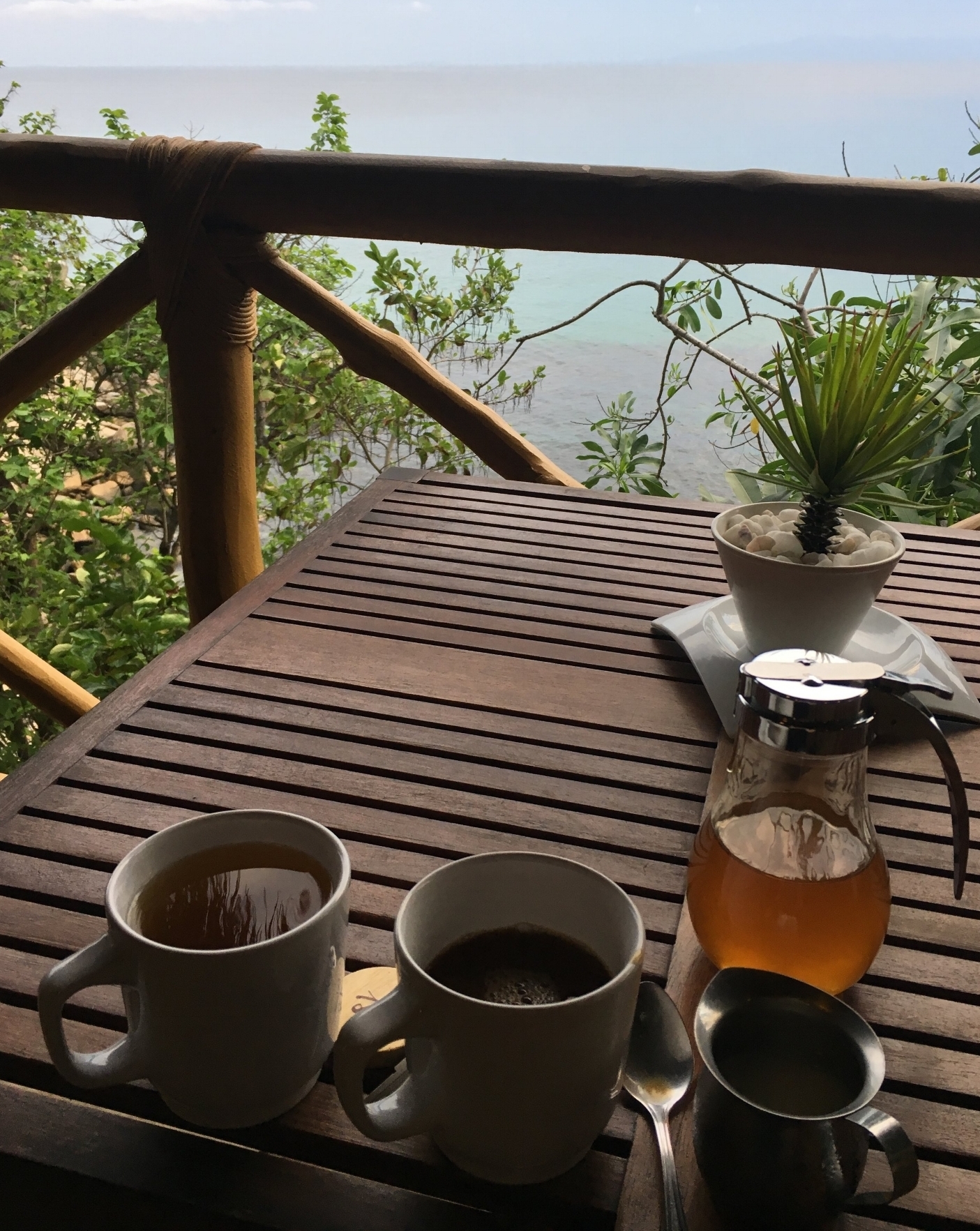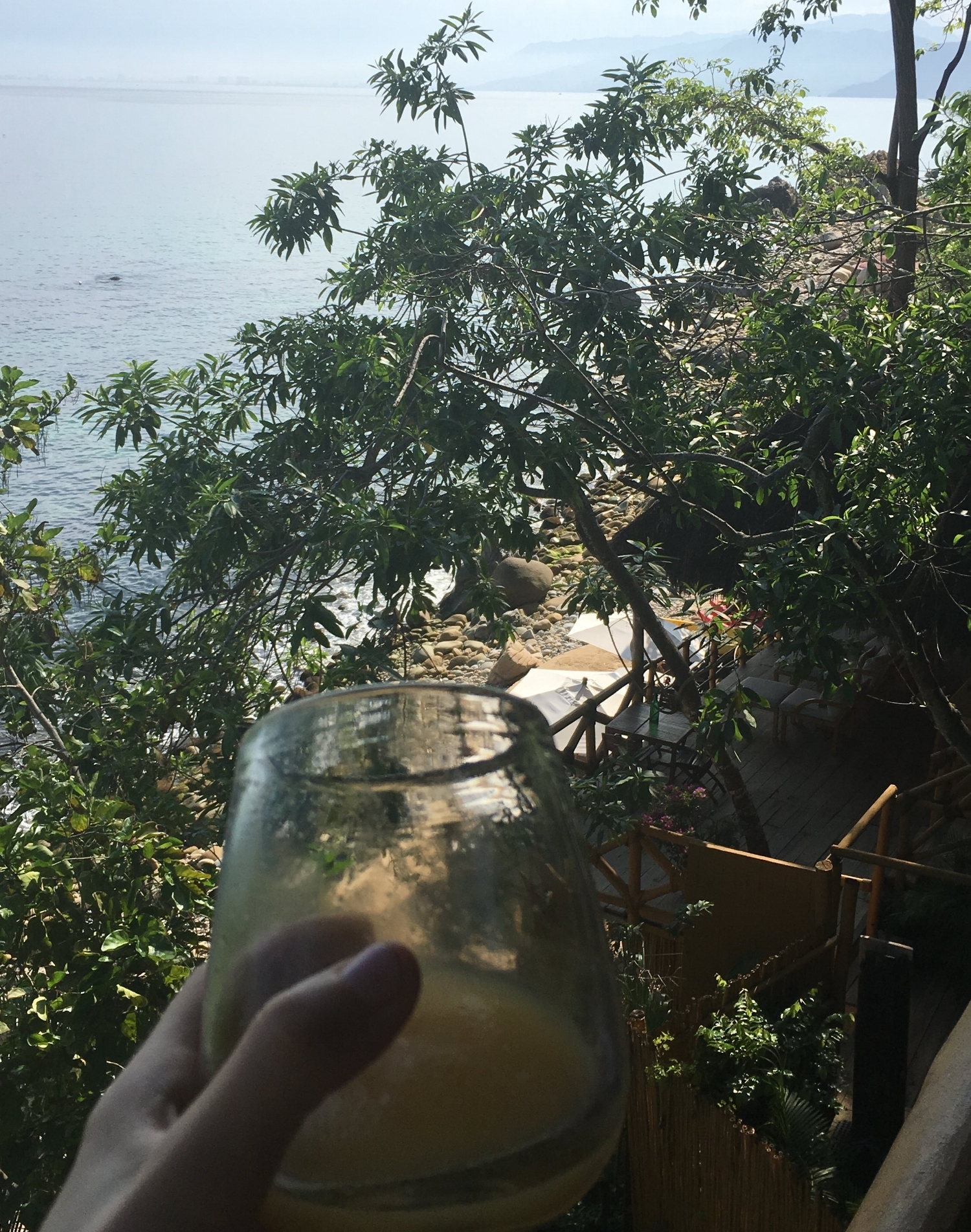 The Location
We love that it is ~40-minute boat ride from Puerto Vallarta to reach Xinalani. The actual boat trip feels shorter and it's a fun way to start your retreat by bouncing through the water and possibly spotting some dolphins (which happened to Colleen!).
We love the peaceful feeling provided by the remoteness of the resort. There is no road access (no Starbucks, no malls), and it allows you to recharge and relax while enjoying your surroundings in a way simply not possible in an urban environment.
Xinalani is next to a small town, Quimixto, where there are a few beach bars and friendly locals.
While the Xinalani beach at the ocean's edge is rocky, they have sandy areas near the beach bar with chairs and hammocks. There is also a gorgeous sand beach available for use just a few minutes walk from the resort. We spent a great deal of time there swimming, laying out and evening enjoying a drink from Charlie's Bar behind the beach.
One evening after the sun had gone down we walked down to the beach and were delighted to experience bioluminescence in the water. Tiny lit-up organisms danced at our feet in the sand as the gentle tide came into the shore.
That same evening, when walking back to our palapa, we heard what sounded like hundreds of small crabs on the grounds. They were scurrying in the woods and along the pathways, fortunately, happy to move away from us rather than towards us. It's good to be aware that Xinalani shares the grounds with the local creatures if you venture out past dark. We recommend making sure your phone is charged to use its flashlight at night.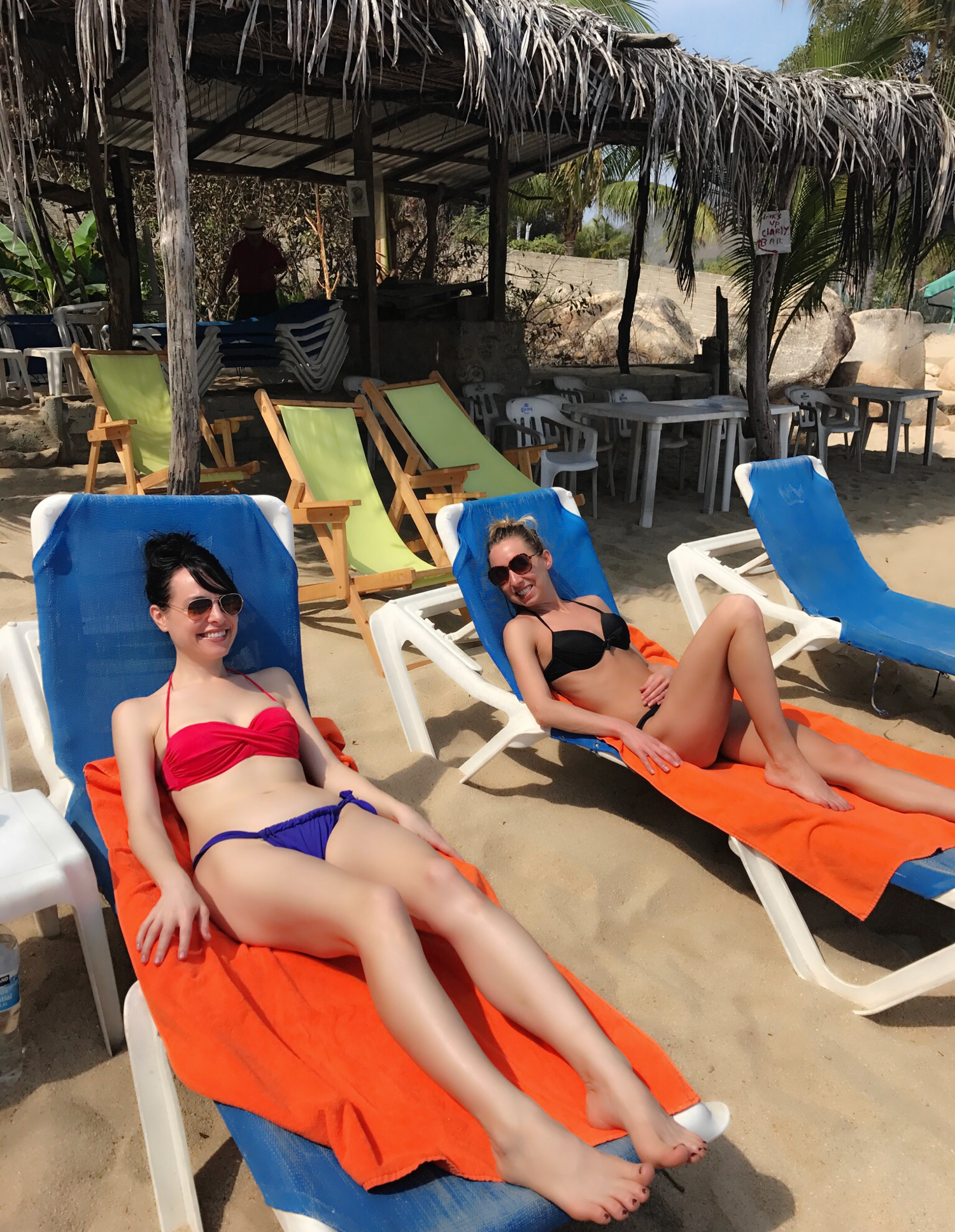 The Accommodations
Xinalani is the perfect size for an intimate retreat where you can keep to yourself or choose to meet other lovely patrons as it is only 23 rooms with a total capacity of 54 people.
All of their rooms and suites are palapas, "palm-thatched roofed cabins built on stilts." They were "designed with, built and elegantly furnished by local artisans" offering a sense of "calm and serene energy." You have the choice between deluxe rooms, petite suites or two different dorm-like palapas (with 4 or 8 beds).
We and our friends were so wowed when we arrived and walked into our palapas. We loved how natural they felt with their thatched roofs and natural wood walls. There are also open terraces with a hammock in the small and large palapas or suites, and an open wall to view the ocean and breathe in the fresh air in the deluxe rooms.
The views from each room are simply gorgeous. We never had an issue with too much noise from the surrounding jungle, and slept well on the comfortable beds surrounded by lovely white mosquito nets at night.
In addition, although there are water conservation efforts at the property, we always had hot water for our showers. The semi open-air wood showers feature space between the roof and wall for fresh air and gorgeous nature views while showering. It is quite a refreshing experience being in such a natural shower.
We also all loved the local nontoxic insect repellent spray and toiletries provided in each room.
Part of the philosophy at Xinalani is to take the time to recharge, so there is no Wi-Fi in the palapas, only in the common areas such as the dining area, beach bar, and reception lounge.
One drawback for some: As the resort is built into a hill, there are hundreds of stairs throughout the resort that you must climb to reach your room or yoga classes. They wisely warn on their website that there are 176 stairs on the property and, "Our retreat is built on a steep hill. There's an elevation of 215 feet from the beach to the highest point on the property (the Jungle Studio). Please take this into consideration if you have had knee surgery, a hip replacement, a sprained ankle or if you hate a good butt workout." (Personally, we loved the glute workout we experienced while walking throughout the resort.)
Activities
At the resort the top activities for us were yoga, hiking the grounds and swimming (in addition to relaxing, of course). However, they also offer the following activities:
Kayaking (complimentary)

Snorkeling (complimentary) - Colleen snorkeled very close to the resort and saw many beautiful fish and plant life!

Salsa Dance Class - This is a complimentary weekly activity. Colleen and Michelle had the chance to join this class, and the instructor made it fun for everyone (even beginners).

Meditation Classes

Temazcal Ritual Experience

Surfing and Surf Lessons

Scuba Diving

Stand-up Paddle Boarding

Jungle Trek to the local Waterfall - It is also possible to trek to the waterfall on your own, which Colleen did with some other guests. The resort is happy to provide directions. You will see many horses on the way, and find a local restaurant and bar at the waterfall site.

Canopy (zip-lining) Excursion

Whale Watching Safari

Swimming with Wild Dolphins

Majahuitas & Yelapa Excursion

Romantic Dinner on the Beach or a Beach Bonfire
Additionally, if you want to leave the resort you can organize your own trip to Yelapa, for example, using a shared or private water taxi. Colleen arranged for a small group to go to Yelapa during the day using the local water taxis arranged through Sergio Martinez, sergioyelapa@hotmail.com. It was an easy and affordable short day trip to an interesting beach town.
The Spa
Xinalani's Spa offers massages, scrubs and body treatments, facials as well as manicures and pedicures in their lovely jungle, ocean-facing eco rooms.
We tried the "Soothing Aloe Vera Skin Repair" treatment that included a scrub applied, a shower at the spa to remove the scrub, and then massage work while the aloe vera gel was applied. It was wonderfully relaxing and helps soothe sunburn.
One of us also tried a Swedish massage and was very happy with the relaxing environment, skilled masseuse and the nontoxic oils used.
The staff is friendly and talented, and breathing fresh air while listening to the ocean in their eco open-air treatment rooms cannot be beaten for a reinvigorating spa experience.
The Staff
The staff is the best!
We had great communication with Caroline and other staff members leading up to our stays. They provide very clear arrival instructions for finding their staff at the airport, as well as helpful preparation information such as "what to bring" in emails prior to arrival.
On-site everyone is so pleasant and accommodating. They note they try to hire from the local neighborhoods and if staff "lack in experience, they tend to overcompensate with genuine care."
Everyone is more than happy to answer questions and assist with any needs during your stay. For example, they obtained a new toothbrush for Colleen when she was in need. Also, they were more than happy to bring out an individual almond milk serving and honey when requested to mix with their coffee before morning yoga and breakfast (guess who asked for those items?).
Their philosophy on valuing their staff notes "we share the goals of being genuine and warm hosts as we offer conscious retreats for those who aspire to live an inspired life." This belief definitely shows in their service.
Affordability
Xinalani is one of the most affordable all-inclusive yoga retreats.
We were amazed that our airport transportation, accommodations, meals and daily yoga classes package was under $225 per night per person (in April for their Small Palapa for 4 ladies booked directly through Xinalani).
Additionally, there are promotional packages offered on their website and often deals with companies such as Gilt or Travelzoo.
There are also a variety of affordable all-inclusive retreats with different focuses that you can join at Xinalani. These retreats can be found for review on their retreats page.
When to go?
From our experiences, we recommend Winter or Spring.
Colleen was there in January and the weather was ideal: warm during the day, a bit cool in the mornings and evenings. It was cool enough to sleep comfortably at night without a fan. The water was calm enough for swimming every day, and it was a refreshing cold, not unbearable by any means. The water drops to the low 70s in winter.
Anne thought that April was also a great time to enjoy Xinalani. The temperature was in the high 80s in the day (perfect beach weather) then cooled down at night. Since the palapas are open-air, the cool weather in the evening is welcome for sleeping. She also experienced the pinkest sunset she's ever seen when visiting in April.
Colleen was there in July as well, and while she enjoyed every minute, her friend found the heat and humidity a bit sweltering. Also, the bugs are more present during the rainy season of July to September. It was the first time Colleen felt the need to use the nontoxic bug spray and was bitten a few times. The water was warm (in the 80s) and very enjoyable for swimming, however. Also, it wasn't too hot to prevent enjoying the outdoors, such as walking the grounds and the beach.
You can learn more about the weather to expect different times of the year here.
Conclusion: We Recommend Journeying to Xinalani
We had such wonderful experiences at Xinalani. We are thankful for the time there spent strengthening our yoga practice, enjoying great food and company, and taking the time to recharge in a gorgeous natural environment.
We know that our friends and other patrons had equally beautiful experiences at Xinalani. Several guests we met were recommended to go to Xinalani by their yoga teachers at home. It is a wonderful place to choose for a yoga retreat.
Xinalani hopes to continue to be "a sustainable retreat destinations for generations of conscious travelers." They want to support their guests in "their search for balance and personal evolution," and we recommend giving them the chance to do so with you.
Have you spent time away from your everyday life at a yoga retreat? Which retreat do you recommend? Leave us a note in the comments!