Anne and I love drinking wine.
It's generally our alcoholic drink of choice. It helps us relax, it's fun with friends, and it potentially offers us a few health benefits.
Being enthusiastic wine drinkers, we were happy to discover that there's a method of making wine that possibly reduces terrible hangovers and headaches, and is better for us and our environment.
We had to try it.
These special thoughtfully-sourced wines are sold in a quaint corner shop in Chicago's Bucktown neighborhood called Red & White Wines. They're known as "one of the first natural wine retailers in the US."
After the first sip, we noticed some major differences from the wine we were used to drinking, and wanted to share why we recommend Red & White Wines.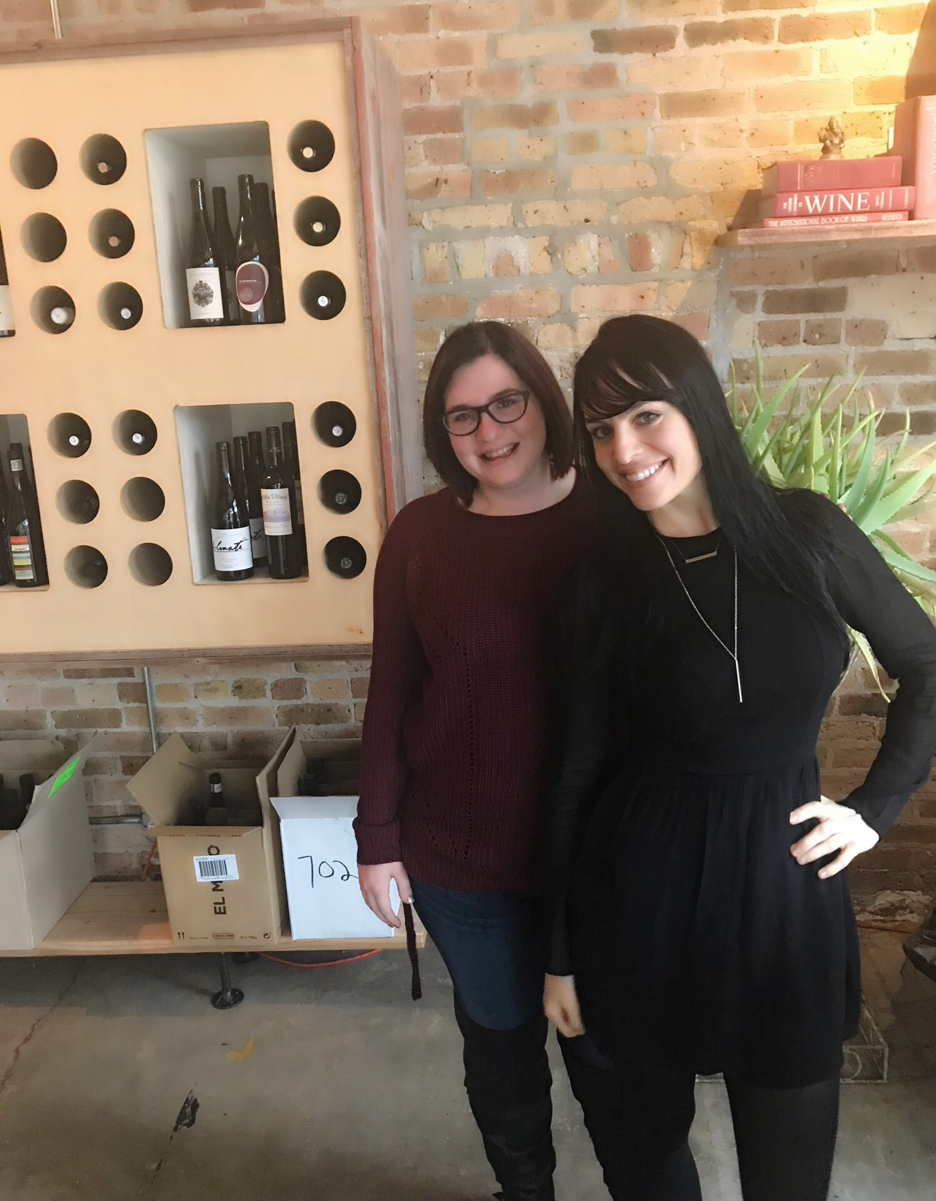 What's Wrong with Typical Wine?
There are over 70 chemicals approved by the FDA for use in winemaking, and these nasty additives and stabilizers are not required to be listed on the wine bottle. Only sulfur added above 10 ppm must be disclosed as an ingredient (listed as "Contains Sulfites") on the bottle. Additionally, winemakers can grow their grapes with toxic pesticides and herbicides, the residue of which remains in the final product for you to drink. Yuck!
As Eric Asimov put it in the New York Times, "For all of its natural, pastoral connotations, wine can very much be a manufactured product."
People often experience headaches or "wine hangovers" and other negative effects after a night of drinking wine, such as brain fog. However, these side effects from wine may actually be caused or worsened by the additives in typical wine, rather than the wine itself. The chemical additives, sugar and commercial yeasts may improve the taste of wine, but they are not healthy for the body and take a toll on the environment.
And, as mentioned previously, the U.S. government does not require wine labels to include nutritional information or ingredients. Meaning you can't possibly know how many chemical additives you may be drinking in a typical wine.
If you want to drink wine that tastes good and is less harmful to your body and the planet, we recommend picking up a bottle or two of biodynamic and/or organic wine at Red & White Wines.
Why are Red & White Wines so Good and so Different?
The wine from Red and White Wines is organic and/or biodynamic meaning it does not contain pesticide and herbicide residue, excessive sulfur, commercial yeasts and contains minimal if any added sugar and other additives. Some bottles even contain no added sulfur (listed on the bottle), which are recommended to be drunk in one sitting. Others are still "alive" and fermenting in the bottle with natural yeast.
Red & White wines are carefully selected to meet their high standards of natural wines. They note:
We represent vignerons who respect their land; winemakers who use no herbicides, pesticides or chemicals on their property. They harvest by hand, utilize only native yeasts in fermentation and minimize additions to their wines. Subtly guided by human touch, this sort of production process mirrors thoughtful farming. These wines speak of their origins by expressing vintage and reflecting environment.
At this point, you probably have one question in mind...
How Can You Try Red & White's Natural Wines for Yourself?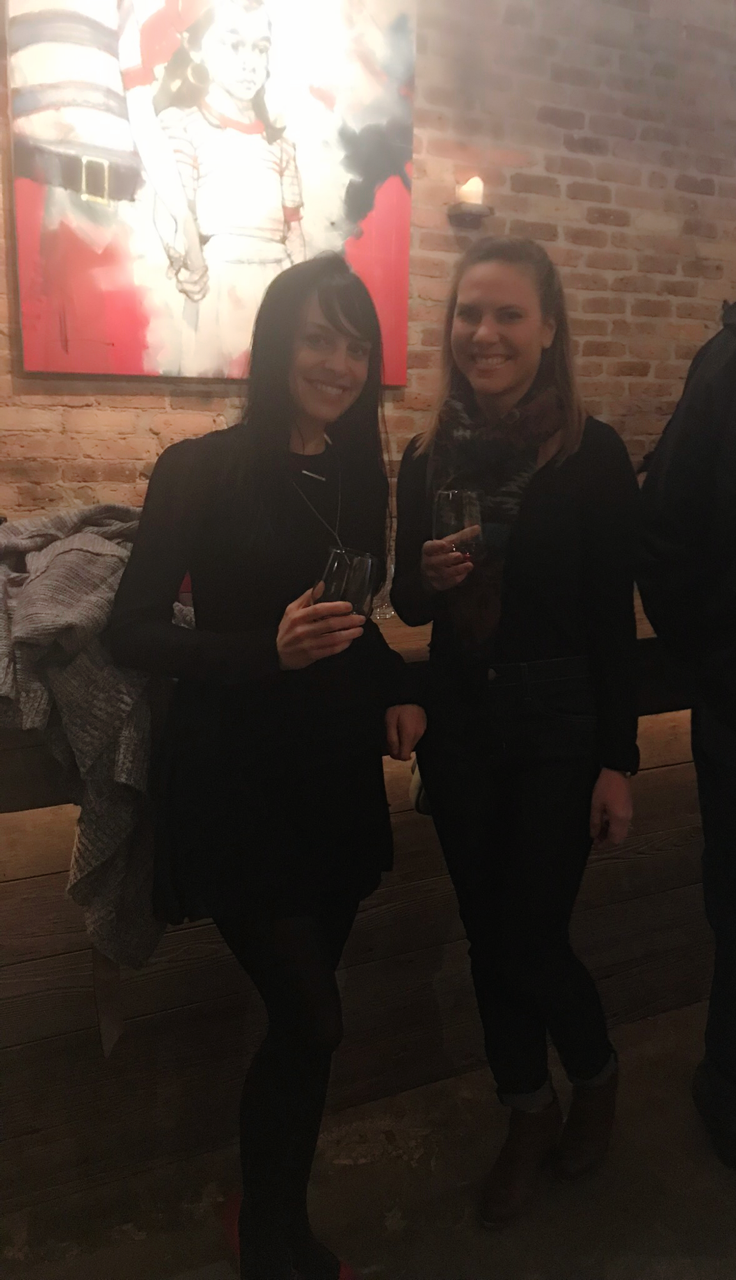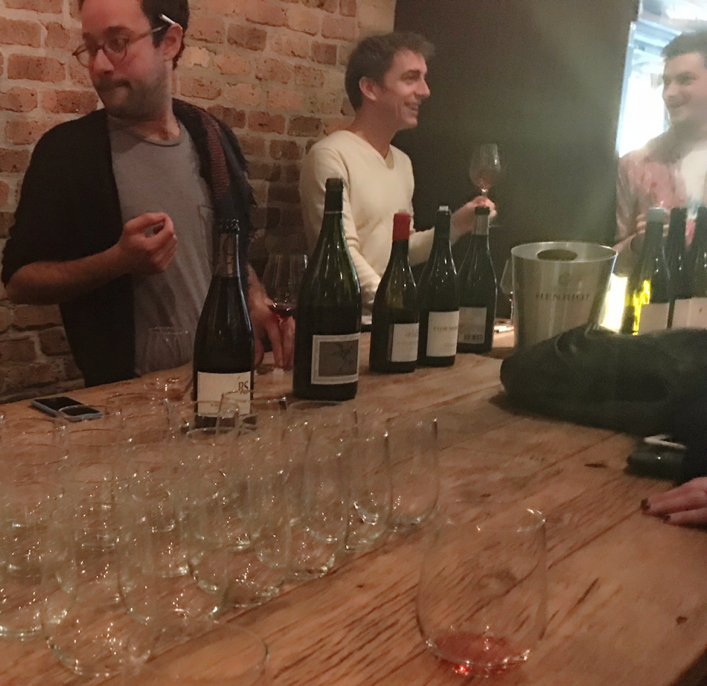 If you just want a taste of traditional organic or biodynamic wines, you can start with a $10 tasting at Red & White Wines every Saturday from 1:00pm to 4:00pm.
The $10 cost for the tasting can be put towards any purchase during your visit. Anne and I always buy a bottle (or multiple bottles) when we've gone to a tasting - making it essentially "free." The same is likely to happen to you once you taste the wines for yourself.
Their "open house style tastings" for the public each week feature a different producer, region, variety or style showcasing 5-6 wines. They may include the winemakers or importers to pour their wines.
Although many of the bottles are over $20, they always have a sale table offering wines under $20 to make sure there are affordable options available to customers. We've bought wines on sale that were delicious.
But that's not the only way to check out Red & Whites Biodynamic wines...
Red & White Wines Events and Wine Club
Red & White periodically offer events showcasing different types of wines.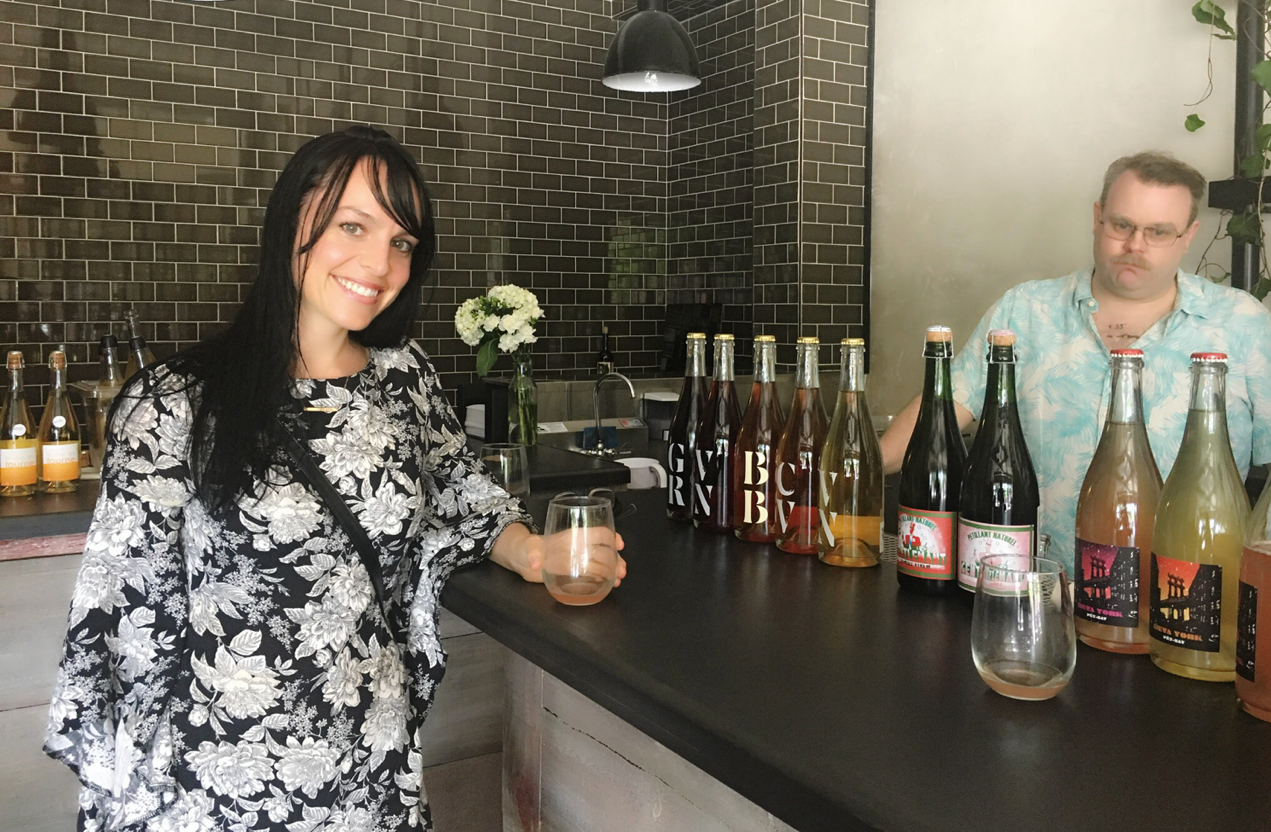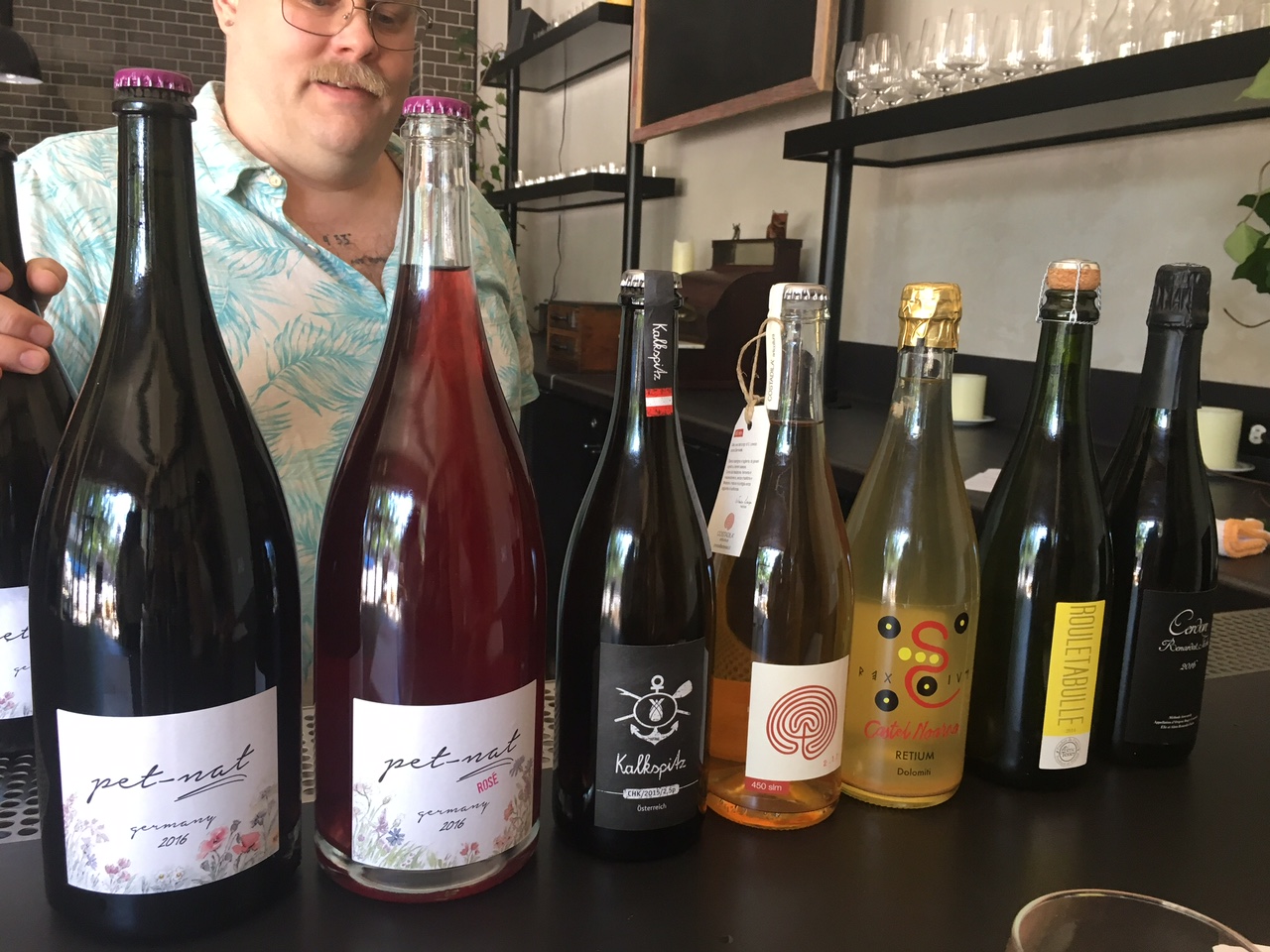 My friend Brittany and I attended their summer "la Fête Nat" event featuring various sparkling "fete nat" wines from all over the world.
We had so much fun at the "la Fête Nat" event (pictured to the right) talking to the wine representatives and Red & Whites owners and staff. We learned a lot about the wines and winemaking processes. We enjoyed the wines at the event so much we each bought multiple bottles, and have enjoyed them with friends and family (no disappointing purchases).
Red & White also offers a Wine Club where club members receive three new wines each month from selections particular to the club for $85 per month (with cancellation available at any time). According to Red & White, the wine will be "new to our shelves, limited releases from our favorite producers and unique selections." The monthly selection includes a newsletter on the wines and vignerons (winegrower) and "pick up party" with tasting each month (they also deliver).
On top of all this, Red & White opened their own bar.
The New Red & White Wine Bar
Red and White opened their new bar connected to their store this year.
Although, the wine bar just opened in January, everything is running quite smoothly. My friend and I went to their bar opening weekend, and we loved it. I have since been back, and have not been disappointed.
The decor is simple: wood tables with candles, chalkboard menu behind the bar as well as printed menus for the tables. The space is small and clean with intimate tables and bar seating, but does not feel overcrowded with the set-up. The darker lighting and candles lends itself to a romantic atmosphere (which is great for dates). I also appreciated their very clean bathroom with great full length mirror (for anyone who needs an outfit check :).
The bar has an extensive drink menu featuring many wines by the bottle, some beer and high-end spirits (including digestifs). They also have a limited menu of wines by the glass for that evening.
Additionally, they have a food menu that is quite appealing with wine, and even offers one of my favorite fish to eat, Arctic char, for the next few months while in season. Although, it is a limited menu, you could make a satisfying meal from it.
The bar staff were all friendly and accommodating. They are also very knowledgeable about their offerings and provide excellent recommendations. They are happy to talk about any of their wines.
When visiting this past month, my friends and I opted for wines by the glass, and tried the sparkling, rose and red options. They were all fantastically delicious. The service was so good that when they ran out of the sparkling option I was drinking, I was offered a glass from another bottle off menu. My friend was also offered off menu red options. The staff is the best.
If you plan to visit, you can stop by during their hours of 4pm to midnight Thursday, Friday & Saturday. They plan to expand their hours soon. They do not take reservations, but there is seating in the shop where you can also be served if you need to wait for a table in the bar.
Why Not Visit the Red & Whites Shop or Bar Yourself?
Anne and I are so happy to have found this shop that supports good environmental practices and thoughtful winemakers, and have been impressed with their quality natural wines.
I can easily say I've tried some of the best wines I've ever had in my life from Red & White (which is saying a lot, considering I've had fine wine in Italy, France, Spain, and Greece). I know that Anne and my other friends are consistently impressed by the wines from Red & White as well.
It's tough to find organic and/or biodynamic wine at a typical shop or grocery store, which is why we are happy to have Red & White in Chicago.
Better tasting wine that's better for us and the planet, what's not to love?
Red & White Wines is located at 1861 N. Milwaukee Avenue, Chicago, IL 60647. They are open Monday - Wednesday, 12pm - 9pm, Thursday - Saturday, 12pm to 10pm, and Sunday 12pm- 7pm. Their bar is currently open 4pm to Midnight Thursday through Saturday, but plans to expand their hours soon.
On top of being delicious thoughtfully crafted natural wines, they seem to have the best labels in the game! Above is a gallery of some of the lovely wines available at Red & Whites
Have you tried Red and White Wines too? What about organic or biodynamic wine? What's your favorite brand and varietal? Let us know in a comments below!
Follow us as we find accessible ways to live healthfully, mindfully and ethically while enjoying life and seeing the world.